48 hours passes too quickly, but I managed to pack a lot of goodness into those hours, and am writing this as the Sunday evening sky is just barely beginning to swirl into blue-grey-pinkness.
This is where Loretta Lynch played a fine little gig last night. Too bad I didn't bring my old clunker bras to leave my personal bit of bra-ness at the Black Cat Bar.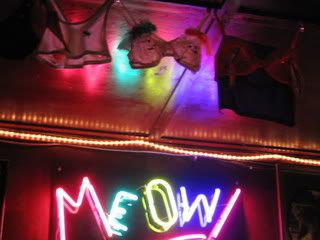 And today... today was just divine. I blew off every last "important" thing I needed to do, and did the most important thing of all. It has been about a year since I've had a picnic at the beach with good friends, and that needed to change.
So I took whatever food I had in the house and turned it into sesame noodle salad, roasted sweet potatoes and brocolli in orange vinaigrette, and marinated pan seared tofu....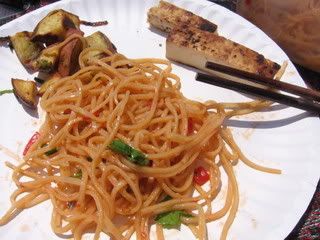 ... and we piled the dogs and guitars and food and beer and blankets into the van, and before I knew it, there I was, sticking my toes in the sand ...
... chasing the dogs into the surf ...
... marveling at the silver light on the gorgeous, endless ocean. What could be more important than this???