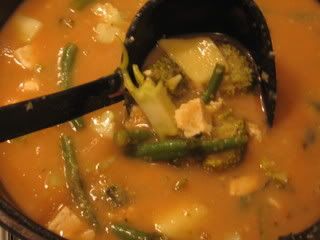 I was all excited to unexpectedly have the night off, to gleefully dive into this recipe for a Thai curry that I'd been carrying around for about 10 years. I even went to the Thai market today to buy dried shrimp - stinky little things, but essential for the recipe.
And then, imagine my surprise when DJ Tumbleweed - one of my favorite
KALX
DJ's - was on the air.
Tumbleweed is usually on Friday nights, and his fabulous choices of music have been my company for many a Friday night culinary adventure. I've been a longtime KALX listener and one of my favorite parts about listening to KALX is you just never know what you'll get. Certain DJ's never disappoint - like Tumbleweed, Carnacki, Laura in the Living Room, and Jesse Luscious, just to name a few.
But Tumbleweed is not usually on the air on Mondays, just like I'm not usually obsessing over recipes on Monday nights. But here we were, off to a beautiful beginning.
I decided that I would adapt this recipe which was clipped from the SF Chronicle long long ago. And the risk you take with adapting is that, well, it might not come out quite right. But for better or for worse, here's what I did:
First, I followed the instructions to soak one tablespoon of dried shrimp in warm water, and then puree it in the food processor with four roughly chopped shallots, three jalapeno's, one roughly chopped stalk of lemongrass, and some water.
Then, I followed the instructions to warm this paste on the stove w/ three cups coconut milk.
Next, I added two cups chicken stock and the zest of one lime, just like the recipe said, and damn, did this taste good. I should've just turned off the stove and stopped right there.
But that's where I had to be a rebel. The recipe called for one pound pumpkin, but I happened to have four satsuma yams, a bunch of brocolli, a handful of blue lake beans, and a small slab of tofu just waiting to be enjoyed, so that's what I used even though I adore pumpkin.
So... rather than throw the veggies in the pot and risk them getting overcooked and soggy, I steamed each veggie separately: the yams and beans for six minutes, and the brocolli for four minutes. I also cubed the tofu and set all these chunky bits aside.
Meanwhile, I kept the curry sauce on a low simmer in the hopes it would thicken a bit, but it just seemed to be getting more watery with time, losing a little bit of intensity.
At this point, I went back to the recipe and added one tablespoon fish sauce, a little more than a half teaspoon sugar, and instead of the juice of one lime which was called for, I added the juice of two limes. This made it taste a little more balanced, but it was still watery and thin. At this point I also added the big fat handful of fresh basil leaves that the recipe called for. Man, basil is a reason for living but that's another story.
The recipe didn't call for tamarind paste, but I happened to have some, so I added two tablespoons. This helped, but it still wasn't quite right. The flavor was getting better but the sauce was still thin.
So then, I added a liberal tablespoon of cornstarch. Probably unorthodox but what the hell, right? It's my kitchen and I'll use cornstarch if I want. And so I did....but it STILL wasn't quite right, so I added about 1/3 cup of tomato puree. And now it was getting closer to what my tastebuds were anticipating. It was fiery, sweet and pungent all at once (just like I like my men...although I admit I have no idea what makes a man pungent!).
All the while, Tumbleweed played the tunes. I can't tell you what he played but I can tell you that it was all perfect in its own way. And maybe you should just tune in sometime and listen for yourself. 90.7 fm, if you find yourself in the Bay area. Program it into your stereo and send them some cash, cause it's listener supported. No stupid ads, no bullshit, just great music. 24/7. For you and me.
At this very moment, the curry is still sitting on the stove, and I'm hoping that time (and the cornstarch) will thicken it up a bit and am pretty confident that tomorrow it will be ten times better after having had a chance to mature.
The jury is still out, but I'm sure that regardless, it wouldn't taste half as good without the fine tunes from DJ Tumbleweed blasting out of the radio. So give him a listen, won't you? And I'll let you know how the curry tastes tomorrow!