Greetings!
Thanks to Bob for pointing out that my "How to roast garlic" link was a bum link - since then I realized that there was another error in that posting - the recipe actually calls for 1/3 cup lemon juice, not 1/2 cup as previously listed. So - I'm going to post the recipe for hummus again here, including my method for roasting garlic. Enjoy!
First, roast a whole head of garlic, even though you will only need about half a head. It's good stuff to keep around and you can spread it on bread or mash it into potatoes or rice or soup.
So, take your whole head of garlic and remove some of the outer papery skin, and slice off the top. Put it on top of a slab of tin foil big enough to wrap around it, and drizzle with olive oil and a little salt & pepper. Wrap the foil over the garlic and bake at 350 for about 30 - 45 minutes. Then peel the foil back so the garlic is exposed, and bake it for another 20 - 30 minutes - the goal is to get it nice & golden brown and completely soft. It should like kind of like this: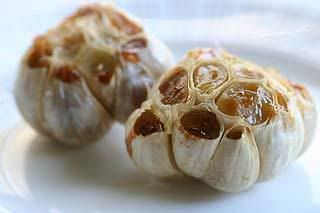 Once the garlic is cool, throw about half of the peeled cloves into your food processor, along with 2 cups of cooked chic peas (I cooked mine from scratch but you can use canned if you must), 1/3 cup lemon juice, 1/2 cup tahini, and 3 - 4 chipotle peppers in adobo sauce. I like
this brand
which doesn't contain anything artificial or nasty. It's a nice thing to keep around the house, and it keeps a long long time in the fridge. And also, a little goes a long way, so you might even want to start with just a couple peppers and work your way up depending on how spicy you like it. Now add about a half teaspoon salt and puree till it's nice & smooth. You may need to add just a bit of water to get the consistency super smooth.
Ok now, go get busy!