Suddenly it's gotten cold. Thusly, I just had to make another pot of the Knitty Otter's Vietnamese Lemongrass soup last night to warm the bones. This time, I got a photo. Mmmmm, now doesn't that look good?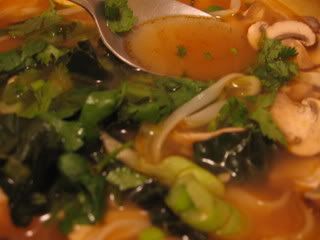 A couple of highlights from Monterey included getting to sing five songs about murder at
Monterey Live
- what a lovely stage, and a fine lineup of entertainment put together by the talented ladies otherwise known as
Vermillion Lies
. These ladies really know how to put on a show, and I strongly recommend you discover that fact for yourself. They will not disappoint!
The theme of the evening was "Murder and Mustaches". When I explained that I prefer to murder my mustache with hot wax and that I wish I could wear it proudly like Frida Kahlo but that I just can't, the ladies proceeded to draw both a uni-brow AND a mustache on me. And then I sang tales of murder, one after the other...
The best food experience was at
The Red House Cafe
in Pacific Grove - what a cute little place with top quality food - the fresh fruit with honey cream is worth the trip alone...yum!
And then there was the
Monterey Bay Aquarium
. This place is wonderful for kids of all ages. I think I could stand in front of the Sea Otter tank for endless hours - what joyful, hilarious beings. But they never stay in one place long enough to take a photo!
And oh, the jellyfish.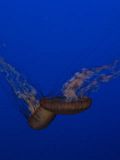 There's something about just looking at these beautiful creatures that gives me the same feeling I get when I listen (as I have been repeatedly lately) to
Aretha Franklin singing the blues
- it's this warm, ethereal comfort that is perfect for a chilly, overcast day. A day like today.
Just add a steaming bowl of soup, and life is complete. Thank you, Mother Nature!